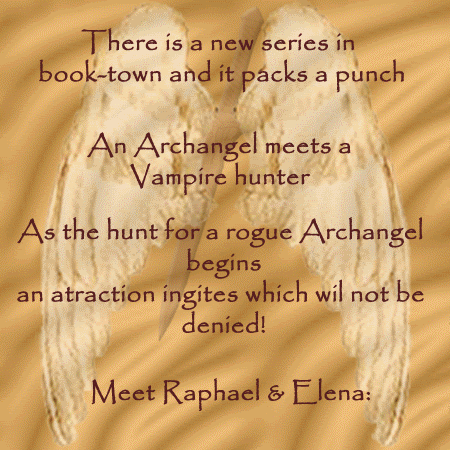 COLUMN: My First Time With A Nalini Singh novel.
As some may, and some may not know is that I'm only reading English novels since about three years and I fell head over heels in love with the paranormal genre. I was such a noob (newbie) in the genre and I was discovering various authors like Karen Moning, Sherrilyn Kenyon, J.R. Ward and Kresley Cole added herself to the mix too with her IAD series. After that I ventured around for a while, tasting new authors and this is where the name Nalini Singh kept popping up. I heard about the shapeshifter series of hers named the Psy/Changeling and heard many good rumors but...up till then I wasn't a big fan of the whole shapeshifter thing. I loved the Were-Hunters but other novels just didn't really cut it for me to buy. It was the name that kind of hooked itself in my memory, Nalini Singh, for some reason it felt so exotic. What could I do when this name kept boomeranging itself back in my face with recommendations and readers posts? Exactly, after a few months I succumbed to it and thought: "I'll just buy the first novel: Slave To Sensation, just to get a taste of what this author is all about." I placed my order of the book with a person who shipped it to me within a larger book-order I placed at the time. Add the shipping time to it and I think I ended up with the book about 12 weeks later. But I wasn't bored, with every voracious reader the TRP is of humongous proportions and I wasn't any different in this. So when my package arrived I opened the MBag and there I found the book with the purplish/dark pink cover. It had one hunk-a-liscious male staring back at me and giving me a look that said: "Think you can tame me?" and after that a smirking: "I dare you to try!"
What happened next is something I can still beat myself over – in hindsight - and I can only say in my defense is that I hadn't read anything from Nalini Singh up till that point in my life!! Because I shelved Slave To Sensation in my bookcases and I can tell you the novel almost growled at me in response. The problem in those days…well, ok, to be honest in current days too, is that so many novels whispered with their voices to me. Yeah, I hear voices when I stand in front of my floor to ceiling bookcases, it is a synergy between me, the book cover, the summary and the feeling I get when it whispers, roars or growls at me. Really, my DH almost makes me put up a Danger Zone warning in front of it!
It took me weeks perhaps even a month or so when I suddenly found myself in the mood for something new, a new author with a new series appealing to my adventurous side. Something like that can swing various ways, either it baffles you with awe for the characters and story, or it can give you a feeling of a nice, good read and be on your merry way to read another book, or…it can be a disappointment where it is not likely you'll try anything soon again from that author. So I opened Slave To Sensation and I met Lucas Hunter and Sasha Duncan, with them I explored the world of mind versus heart, of the power of the mind versus the vibrant diversity of the heart. I knew instantly, like I knew with Kenyon – Ward – Cole and Moning, I had myself such a unique introduction to a series in my hand it would rock many readers to their paranormal core.
First paragraph from me review of Slave To Sensation:
SLAVE TO SENSATION is the first entry in to the Psy-Changeling series of Nalini Singh and it nails you to the couch with a sheer enthralling read of this new world. It is where I got to meet this group of characters whom only made me instantly hunger for each and every story. I was a compass needle spinning out of control for the pack members whom each growled with a past that needs further exploring.
I wanted to shout it out from the roof tops I discovered a new author while a large crowd of readers said: "Damn, where have you've been gal?" and all I could say for myself was that I was buried underneath the Dutch translations for a very long time and I was just beginning to catch up with the rest of the world! From that moment on I read every book in the Psy/Changeling series and for me Nalini Singh is the kind of author who just hasn't gotten a lower rating than 4 stars from me. There are just a few authors on my bookshelves who have received that same honor. My first time with a Nalini Singh novel baffled me in awe of her characters and storylines, when I got the chance to interview her for ROOB and she asked if we wanted an ARC of Angel's Blood. Well I asked our other reviewers for ROOB if they wanted the honor but I had my hand sky high saying: "Me, Me, Me!" and they graciously said: "It's yours." *wink*
I remember the moment Nalini Singh put up her summary of Angel's Blood:
USA Today bestselling author Nalini Singh introduces a world of beauty and bloodlust, where angels hold sway over vampires…
Vampire hunter Elena Deveraux knows she's the best—but she doesn't know if she's good enough for this job. Hired by the dangerously beautiful Archangel Raphael, a being so lethal that no mortal wants his attention, only one thing is clear—failure is not an option...even if the task is impossible.

Because this time, it's not a wayward vamp she has to track. It's an archangel gone bad.
The job will put Elena in the midst of a killing spree like no other…and pull her to the razor's edge of passion. Even if the hunt doesn't destroy her, succumbing to Raphael's seductive touch just may. For when archangels play, mortals break…

I couldn't help myself but get that tingly belly feeling all over, an Archangel named Raphael and a Vampire hunter named Elena, this appealed to my own fantasy. What would Nalini make of it? What was their back-story? What new world would I venture in and most important of all, would I love the characters and storylines just as much as the Psy-Changeling novels? I received the ARC, calmed down with a cup of tea and sat down and started to read. I think it is always a bit of a "leap of faith" moment for author and reader to start a new series when the author already created one which has such beloved characters. I can honestly say that how Nalini does it is a mystery for me but Elena and Raphael came alive for me in a spectacular new world. She created something unique for me to treasure on my bookshelves again and in a
Paranormal/Urban Fantasy genre this is quite an accomplishment. From the hand of various authors many strong, self-sufficient, kick butt heroines are seeing the light of day in 2009 and yet Elena already takes up a special place in my heart. Raphael en Elena separate are vibrant characters to get to know but when together they are astonishing in dialogue, action and an erotic collision waiting to happen.
A quote from my review of Angel's Blood:
I relished as a reader in Singh's fantasy with the new set up of Angel's and Vampire lore. With her introduction of her protagonist, Elena, I was thrown smack dab in the middle of this new world to discover Archangels who I could not have imagined in my wildest fantasies. Great characterization, romance, eroticism, battles or action, it all thrives one way or another in Angel's Blood. All I can finally say is: "Where can I sign up for more!"
I will post a link as soon as my review is up and running at ROOB and the interview is added! I sometimes really have the desire to get inside the characters head and heart and I'm just wondering what I would have to do to get a chance with Elena and Raphael? I think they both have a tendency towards protecting their privacy but what wouldn't you do for a one on one with Raphael? Or invite Elena, and well Sara can tag along too, she seems like the kind of person who also is a hoot to have on a "ladies only" night. Would it be possible to get a few characters online for a "Ladies Only Night" and who would we love to invite?? *VBEG*
By now my longing book heart has to wait two more days for Angel's Pawn, an E-Novella which is set in the Guild Hunter world and I'm kinda hoping it is the story of Sara. So I say, start counting down with me for this novella which will be a welcome interlude in everybody's wait for Angel's Blood. Nalini, thank you for giving voice to such a diverse world again with a verity in characters, from Archangels, Vampires to Hunters to cherish and an overall plot that screams for a long time continuance!

For more information on Nalini Singh, her writing, Angel's Blood and the contest, please visit her WEBSITE

My
REVIEW
of Nalini Singh's Angel's Blood.
Hugs,
Leontine