I already saw this post popping up everywhere (I think
Erotic Horizon
was my first) but when I went over to Cecile's place;
All I want And More
, and found another What's On Your Desk Wednesday MEME I knew it was time to flash you my desktop and TRP. For me working on such a post takes time since I want a nice header for the post, rummaging through photo's which ones will do, taking some more photo's of my desk and such so finally, here I am with my post of: What's On Your Desk Wednesday.
Rules:
"What's On Your Desk Wednesday is a weekly book blog meme hosted by Sassy Brit of
Alernative-Read.com
Here are the rules, and they are pretty straight-forward.You can do one of two things or both.
1. Grab a camera and take a photo of your desk. Or anywhere you stack your books/TBR pile. And no tidying! Add this photo to your blog.Tag at least 5 people.
2. List at least 5 BOOKISH things on your desk (Examples are TBR pile or books you haven't shelved...) List at least 5 NON BOOK things. (Like some of the more unusual items on your desk/table?)
Tag at least 5 people to do the same.Once you're done, go to Sassy's blog and post your link. That way people can visit your blog and see the pictures you have posted."
5 Book things on my desk:
* You all see that thick red book on the left? That is my Synonym Finder by J.I. Rodale. When I write reviews I sometimes have it that a word is just not exactly what I want to convey or if I become very repetitve I often use this book to guide me. That is why I have a rough draft of my review and then I take a look at the text for a grammar mistakes and such.
* Chaos is my middle name so I have bought myself a plastic basket thingy that holds a signed cover of Kiss Of A Demon King, you don't see it but it is there.
* I also received a computer cloth from Brenda Joyce but I use it for my glasses instead of my pc screen. With ROOB we are listed as a reader's group so we receive promo items from time to time and I luuuurve Brenda Joyce's pc cloths LOL
* I have utter delicious Highlander cards from Karen Moning, also stacked in the plastic basket thingy. Once in a while I stumble across them and sigh pure female bliss. Nathan Kemp is so hubba hubba.
* And last but not least, I also have a mousepad with a cover CL Wilson printed on it in there, I love her covers created by Judy York but my mouse didn't move well so it got moved into my basket.
PS, I don't have TRP on my desk *frowns* Whenever books arrive they go on to my shelves immediately and that is where I have my pile of book I want to read ASAP.
5 Non Book Things on my desk:
*A can filled with old fashioned dutch peppermints. For some reason when I go do things with photoshop/blog or write review I have this oral fixation I can't get rid of. So I pop a peppermint every once in a while.
* Season 1 & 2 of The Tudors has been gracing my desk since I think the early day's of June. To my utter shame it is still wrapped in the foil *eek*
* I have a glass filled with pens. I always seem to lose pens everywhere so when I need one I search the whole appartment for one. Now I have a standard place on my desk where I can find them at all times :D
* My scanner, something I can't do without when working with photoshop also resides on my desk.
* And my microphone. My brother, sister and I have ventrilio, a program which allows us to talk via internet to each other. Comes in handy when I freak out about all thing related to pc that goes wrong or when we play a game called World Of Warcraft.
I'll just flash you my shelves, I think about 50% is still unread *eek*`
This is my bookcases in my living room, the top shelf contains many Dutch releases which are my true keepers on my shelves, the rest is all books in the english language.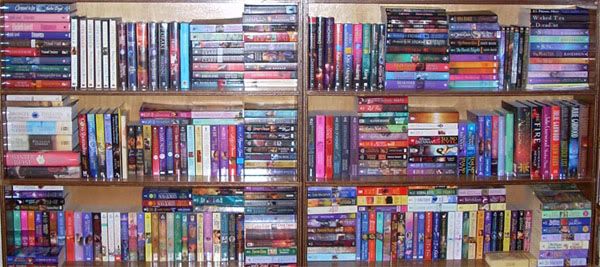 This is my bookcase in my hall. The top four shelves are Dutch releases, books which I wanted to keep but I had to make room for my "other" incomming books so they brighten up my hall. The rest is all english which I bought in bulk orders at Ebay. Someday I will read them, just not in the immediate future ;D
Extra: The view through my window, left of my desk: