I found me two new challenges. First of all when I found out Pearl would be holding a challenge I was certain of it that I would never have 10 contemporary romance novels on my shelves. Oh, she proved me wrong but when I rediscovered my Nora Roberts on the shelves I was like; Hhmmmm, I could re-read some of my all time favorite like Carolina Moon, Birthright etc and I have Erin McCarthy with Flat-Out Sexy, Maya Banks with her Sweet series and suddenly 10 books wasn't all that hard to find. So now I am off to add my name to the list of participants and look forward to reading these books!
List so far:
1. Maya Banks – Sweet Surrender
2. Nora Roberts – River's End
3. Erin McCarthy – Flat-Out Sexy
4. Susan Elizabeth Phillips – What I did For Love
5. Nora Roberts – Sanctuary
6. Jo Davis Under Fire
7. Nora Roberts – Homeport
8. Maya Banks – Sweet Persuasion
( I will add as I go along)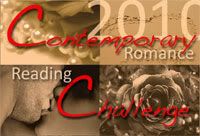 This is what Pearl has to say about the rules and challenge: By contemporary romance I mean straight contemporary, so without paranormal, fantasy or time-travel elements. Sexy, steamy contemporaries are eligible and so are category romances. (i.e. Harlequin Blaze, Harlequin Presents, Harlequin Super Romances, Silhoutte Desires, etc.)

Details:


1. Read at least 10 contemporaries between January 1, 2010 and December 31, 2010


2. You don't have to pre-select your books, you can just add them as you go. Even if you list them now, you can change the list if needed. Nothing is set in stone! Also, the books you choose can crossover into or from other challenges you are participating in.


3. Feel free to grab the button below for the sidebar of your blog. It would be great if you would link it back to this post so others can find their way back to this post and join the challenge.


4. If you decide to join this challenge be sure to create a post telling others and feel free to add a link back to this post so others can join in the fun.


5. I will be creating review posts where you can link your own reviews, but reviews are optional.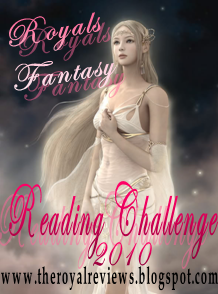 ~
link
to Royals Fantasy Challenge~
Now with already quite a few challenges I said to myself in serious voice; Leontine, you just can't handle anything more! You will have various things on your plate next year and a TBR pile to consider as well. (Yes, I talk to myself) Still, when I saw a post on next challenge it practically screamed my name, a genre I hold so dead AND it has various subgenres in which I read quite a few books. I'm guessing Urban Fantasy is included as well and I gots me some Ilona Andrews, Erica Hayes and Chloe Neill. I've also got Elizabeth Vaughan, Anne Bishop, and Suzanne Collins I've got waiting to be read. All books I can add for this challenge so I'm going for the full 20 books to be read.
1. Anne Bishop – The Invisible Ring
2. Chloe Neill – Some Girls Bite
3. Erica Hayes – Shadowfae
4. Elizabeth Vaughan – White Star
5. Ilona Andrews – Magic Bites
6. Suzanne Collins – Hunger Games
7. Laurell K Hamilton – Kiss Of Shadows
(there will be added to the list as I go)
The rules are as followed:
The Fantasy Reading Challenge can include YA Fantasy or Historical Fantasy, Science Fiction Fantasy or any other sub genre of Fantasy. There really are no limits to this challenge as Fantasy is such a wide and varied genre. Just enjoy and have fun! I'm planning on reading the Katherine Kerr Deverry series if anyone would like to join me in a read along.
Challenge Guidelines:
1. Anyone can join. You don't need a blog to participate.
--Non-Bloggers: Include your information in the comment section.
2. There are four levels:
-- Curious – Read 3 Fantasy Fiction novels.
-- Fascinated – Read 6 Fantasy Fiction novels.
-- Addicted – Read 12 Fantasy Fiction novels.
-- Obsessed – Read 20 Fantasy Fiction novels.
3. Any book format counts.
4. You can list your books in advance or just put them in a wrap up post. If you list them, feel free to change them as the mood takes you.
5. Challenge begins January 1st thru December, 2010. Only books started on January 1st count towards this challenge.
6. When you sign up under Mr. Linky, put the direct link to the post about the Fantasy Fiction Reading Challenge. Include the URL so that other participants can find join in and read your reviews and post.
I was skittish in 2009 to join challenges but I guess 2010 will be a challenge rich year *grin* It will be a fun way to add some structure to the reading :)