My friday night and part of my saturday I was consumed by a debut novel titled; BACKSTAGE PASS, introducing me to the Sinner rock band. On the cover it states; Sex, Love and Rock 'N' Roll and that is what I got in the kind of dossage that was toe curling good.
I loved meeting Sedric, Jace, Trey, Eric and Brian, each has the kind of kink I can't get enough of and they jam the night away like nobody's business. I wanted to be among the crowd and flash my cardboard that says; I Heart The Sinners!
So okay, I'm not sixteen, eighteen or even twenty anymore and I doubt my hubby can lift me up on his shoulders for a better view of the stage, but hey, my inner rock chick loved the vibe of the Sinners on tour and their concerts.
I could not put Backstage Pass down, I think I read 210 pages on friday night and this book proved to be one hot date! On saturday I finished Backstage Pass and knew I was a goner for this series, wrote my review and I now can't wait for Olivia Cunning to drop off the letters from the Sinners.
So when I updated my goodreads status I wrote: "The Sinners have a new groupie", and that is when the influx of creativity hit me. I made badges...for me and those who like to flash their love for a particular band member or the band as a whole. Of course that certain band member did have to approve you as a groupie...just sayin' ;)
~Below is badge for the whole band, so if you want them all or can't chose...this is the badge to go for LOL~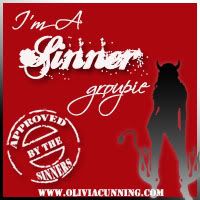 ~Individual band member badges~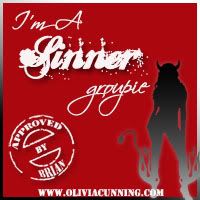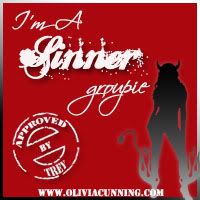 If you copy and paste the image will link to the profile page of the Sinners band members on their website!
Update: Today Olivia Cunning has posted a great short story on the blog of Casablanca Authors' blog titled:
Sinners Trick, Sinners Treat